– Rev. Joey Reed, OSL (Lead Pastor)
Come June, I'll be wrapping up my fifth year at Grace UMC. We've had a long road of ministry together. For those of you who have been keeping up, you likely already know that there was a Five Year Plan for moving Grace UMC into successful and effective ministry. For those who may have missed it, here's a recap.
Year One
Year One was an effort to recover from a particularly difficult period in the life of our church. The transition was difficult for our last pastor, my colleague, Rev. Dan Weathersbee, and it was also difficult for many in our congregation. In fact, not all of our friends who were members at that time still attend Grace. Sadly, we watched as friends and neighbors came to the end of their strength to deal with the stress that had consumed so many. That first year was a reminder that everyone associated with Grace was a "Child of God, a Person of Worth." We invested in each other and in ourselves, but our focus was on the God who loves us so, and the Savior sent to die on a cross to rise on the third day. We bathed in the glow of the Spirit and we held fast to the promises made to us and the promises we made to each other in our vows of membership.

Year Two
Our second year together focused on personal discipleship. We examined closely the things that make for personal growth. All across the church, individuals examined their commitments and rediscovered the power of putting ourselves aside to be filled by the Holy Spirit. We emphasized our covenant, and we pressed one another to pray for each other and for our collective ministry together. Various disciplines of the Spirit were taught and reinforced. And we began to put our small group ministry back together.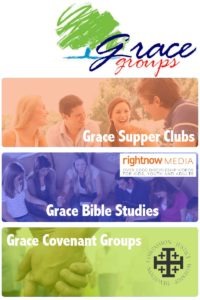 Year Three
Year Three was intended to be about small groups. We made a good run at it, but we are still working on that growing edge as a congregation. Perhaps it was too much too soon. Perhaps we weren't careful about the structures of our small groups. I know that some folks wanted to learn from a teacher while others wanted to participate in deep discussions. In a few cases, we got our lines crossed and some of our groups slowly fell into disuse. Of all of our efforts, this one was the one that had the most room for improvement.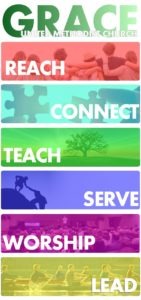 Year Four
Year Four was an intense focus on rebuilding our administrative teams, letting the Trustees focus on issues of the physical campus, Finance turn their face fully towards stewardship of our material wealth, and SPRC dig into some of the big picture items that we had spent the last three years outlining and discussing. We also brought our Church Council back into full force, providing a clear structure of support for our ministry teams: Reach, Connect, Teach, Serve, Worship, and Lead.
Year Five
This past year, we played catch-up to some extent. The hope was to let our efforts to Reach, Connect, Teach, and Serve go viral. But something was missing. As we reviewed our efforts, it was clear that we were trying to do all of these things with a single small group of leaders and participants. It didn't take long to discover that the missing component was Small Group Discipleship. Why is that so important?Let's say Grace has three small groups of five people each. Then, we have six new guests at worship in the course of a month. It is fairly simple to fold two people into each of those three small groups. But if we have one large body of 15 in a "small" group, it's much tougher for those six people to find a place. Is that an oversimplification? Yes, but it makes a point in the messy world of forging new relationships. When the groups are smaller, it's much more difficult to hide. And it's harder to tell yourself, "I'm sure someone will speak to the new folks. I'll catch them next time."
Success!! Right?
So does the five year plan will be finished in June?
Not quite.
We haven't achieved our goals, not all of them. We've had major successes. Our worship is vibrant. Our student ministry is AWESOME. We show hospitality and welcoming better than ever!
But we still have some places that are not moving as well as the rest. And the heart of our slow-down is in small group ministry. I want you to know that I believe the heart of our success lies there as well. So I will be asking Grace to step up.
How Can I Help?
Some of you will be asked to be leaders. Some of you will be asked to come out of your shells. Some of you will be asked to curtail some of your busy schedules so that you can devote an hour a week, or every two weeks, or maybe an hour a month to developing deeper, authentic relationships with the people with whom you worship.
Don't misunderstand. I'm not asking for a powerhouse Bible study for every group or a two hour covenant group. Yes, those are options, but they aren't for everybody. Maybe you would prefer to start a game night at your home for four or five folks in your pew. Maybe you'd like to start a luncheon group that meets each week for a meal and conversation. You might be a voracious reader, looking for folks to talk to about that last big novel you just finished.
Any of these options are great. And there are dozens more that we haven't even named yet.
What we have named is the challenge: To develop closer relationships with one another and with our God. Without that piece, our success will forever be limited. We'll only be one more organization that meets and pays its bills and disperses to home and work and life. The alternative is clear. We can do LIFE together. We can experience the abundant life that Jesus promised us by multiplying our joy, our blessings, and our love simply by sharing each of those things with a small group of Christians.
We will be rolling this plan out in the next three months or so. And you are invited to find your place in this small group structure. Make your niche. Find your best self in community with your friends at Grace. This may be exactly what you've been waiting for. Come and see!