We are beginning the new year with a revitalization of our Sunday School classes at Grace. If you've been taking a break, now is a great time to rejoin a Sunday school class. If you're looking for something new, this is the semester for it. Our Sunday School classes will be taking on scriptural studies. Take a look below at the course descriptions.
And if those don't interest you, or you're not able to make it on Sunday mornings for Sunday school, check out our offerings during the rest of the week which are designed to bolster your discipleship and bring you closer to God.
For more information, contact the church office to be put in touch with the teachers of these classes.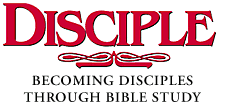 Disciple I is a program of disciplined Bible study aimed at developing strong Christian leaders. The study gives the Old and New Testaments equal time, emphasizing the wholeness of the Bible as a revelation of God. DISCIPLE draws upon the work of scholars, the personal Bible reading and study of the participant, and dynamic group discussion to aid understanding of the Bible. Meets every Sunday at 9 am in a classroom at Sacred Heart of Jesus High School starting February 19!
Every week, Rev. Joey Reed studies the lectionary passages for the upcoming weeks in order to prepare for the task of preaching. Not all of it makes it into the sermon — there's just not enough time.
So each Sunday, we offer a class for adults to reveal the material that didn't make the cut for the week. We range in topics from the best methods to study a particular passage to the results of that study to the application of what we've learned. There's plenty of classroom participation, but make no mistake: This class is about engaging content, learning new methods, and practicing skills.
The passages for this week's study are found in the link below and on the sidebar to the right on most of the pages on the site.